The ICC Academy was established in 2005 at the initiative of long-time ICC supporter Tony Blakeney of Australia who argued that ICC would need a forum for identifying individuals who had made significant contributions to their particular society or profession, in order to recognise those who had brought major contributions to cereal science.
The initial ICC Academy Membership comprised all of those who had received ICC Awards to that time, and it was agreed that the future membership will be given in the form of a Fellowship.
The aim of the ICC Academy is to provide recognition to individuals from within the ICC membership who have made significant contributions to the work of the ICC and the furtherance of its aims and ideals, and to the profession of cereal science. Thereof the ICC Academy may propose recipients of ICC Medals and other Awards, as well as suitable candidates for the Harald Perten Prize and for the ICC Honorary Presidency as mentioned below.
Furthermore, the Academy may advise ICC on issues relevant for cereal science and technology.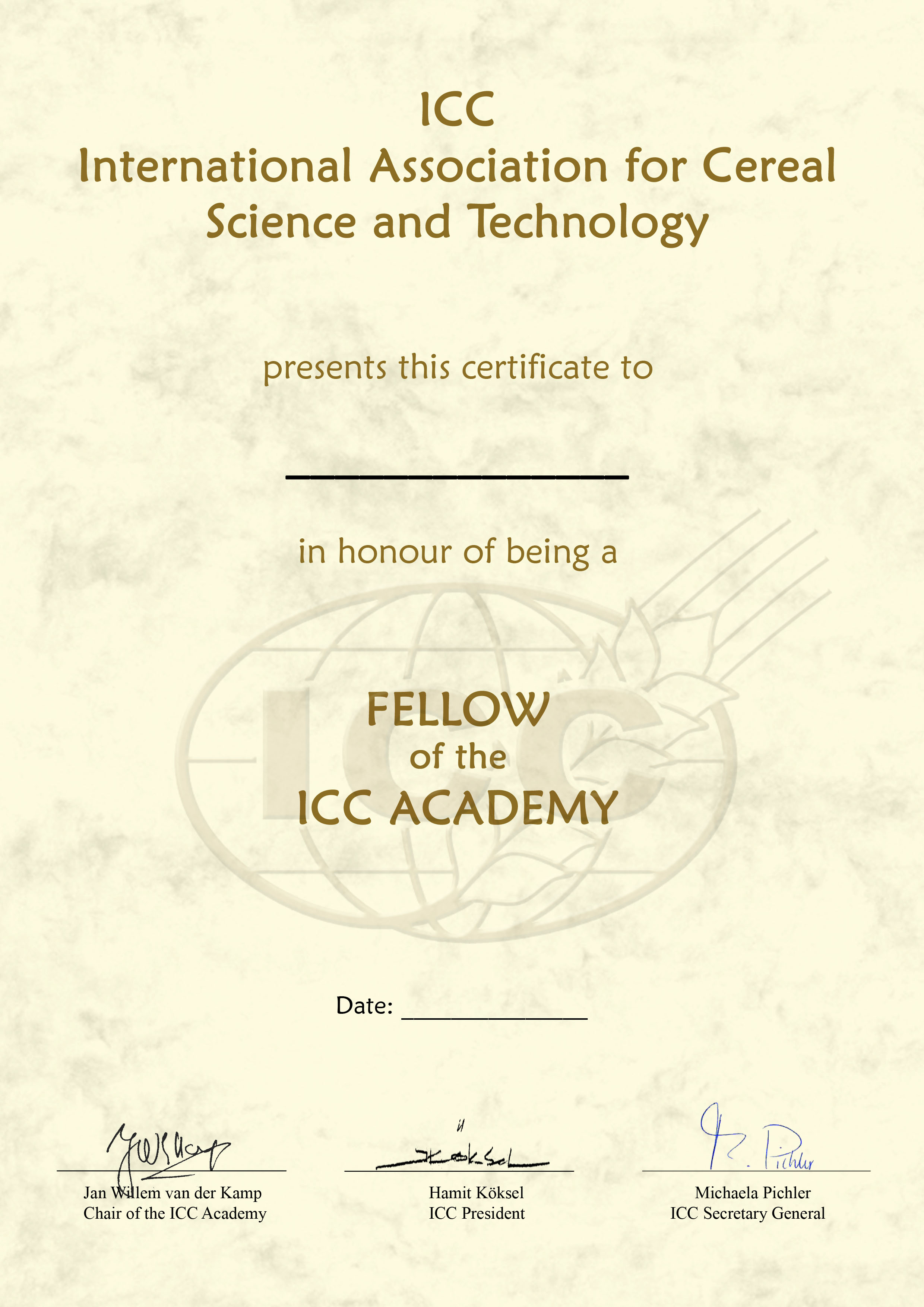 Fellowship of the ICC Academy
Cereal scientists, technologists and other individuals deemed to have made significant contributions to cereal science and the aims and objectives of the ICC can be awarded as Fellow of the ICC Academy.
Prof. Ke Bian, CN
Prof. Fred Brouns, NL
Prof. Vyacheslav A. Butkovsky, RU
Dr. Marina Carcea, IT
Mr. Stanley Cauvain, UK
Dr. Christophe Courtin, BE
Mr. Robert (Bob) Cracknell, AU
Dr. Vladimir Dashevsky, RU
Dr. Jan Delcour, BE
Dr. Floyd E. Dowell, US
Dr. Pierre Gélinas, CA
Dr. Helmut Glattes, AT
Dr. Peter Koehler, DE
Dr. Barry McCleary, IE
Dr. Sam Millar, UK
Prof. Julie Miller Jones, US
Dr. Perry K.W. Ng, US
Dr. Roberto Javier Peña, MX
Dr. Peter Shewry, UK
Prof. Pieter Steyn, ZA
Prof. John R.N. Taylor, ZA
Drs. Jan Willem van der Kamp, NL
Dr. Phil Williams, CA
See all resumes of the colleagues mentioned above
HERE

Find a list of all recipients of ICC Academy Fellowship
HERE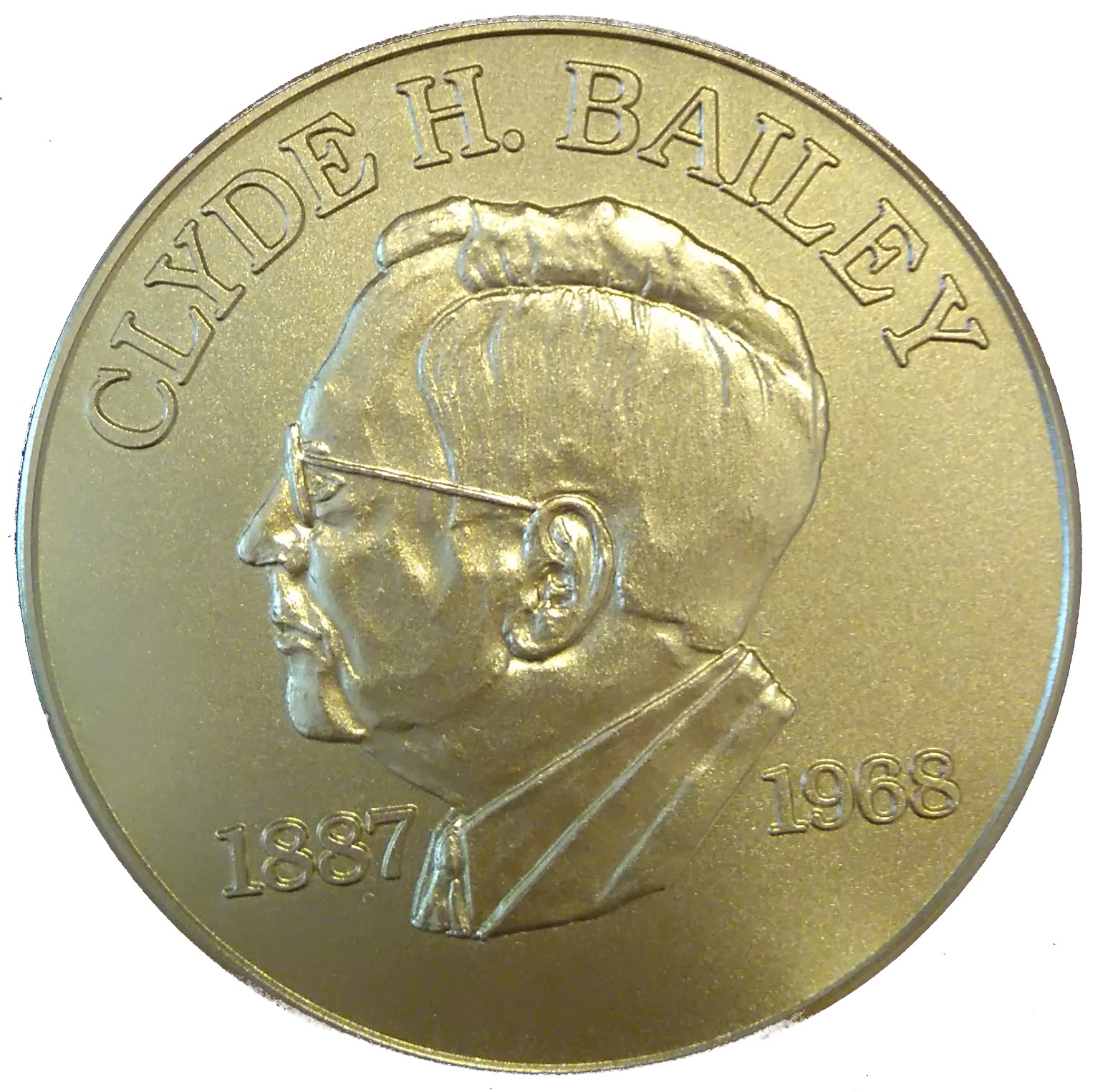 In 1958 ICC approached Dr. Clyde H. BAILEY with the request to accept the honorary life presidency of the Association. Dean BAILEY honoured ICC greatly by accepting the invitation and remained Honorary President of the Association until his death. Before his retirement Dr. BAILEY had been Dean of the School of Agriculture of the University of Minnesota.
In 1969 the ICC decided to create an award for outstanding achievements in the service of cereal science and technology, which was at the time to commemorate Dr. CLYDE H. BAILEY, who had died the year before. As a distinguished scholar of world-wide renown, as a research worker, teacher and author of numerous fundamental works on cereal and flour chemistry, Dr. BAILEY had made essential contributions to the promotion and development of cereal science throughout the world.
The CLYDE H. BAILEY Medal is awarded at intervals of four years for outstanding achievements in cereal science and technology.
See below for recipients of the Clyde H. Bailey Medal.
Prof. Kaisa Poutanen, VTT, Finland (2017)
Prof. Dr. Peter R. Shewry, Rothamsted Research, UK (2016)
Dr. Colin Wrigley, Australia (2013)
Dr. Barry Mc Cleary, Ireland (2008)
Prof. Dr. Raimondo Cubadda, Italy (2000)
Dr. Pierre Feillet, France (1992)
Dr. Werner Saurer, Switzerland (1988)
Prof. Dr. Wilfried Seibel, Germany (1982)
Prof. DDr. Ing. Radomir Lásztity, Hungary (1982)
Prof. Dr. L.A. Trisviatsky, USSR (1978)
Prof. Jean Bure, France (1978)
Prof. Dr. John A. Shellenberger, USA (1974)
Dr. Reinhard Schneeweiss, GDR (1974)
Dr. Friedrich Schweitzer, Austria (1970)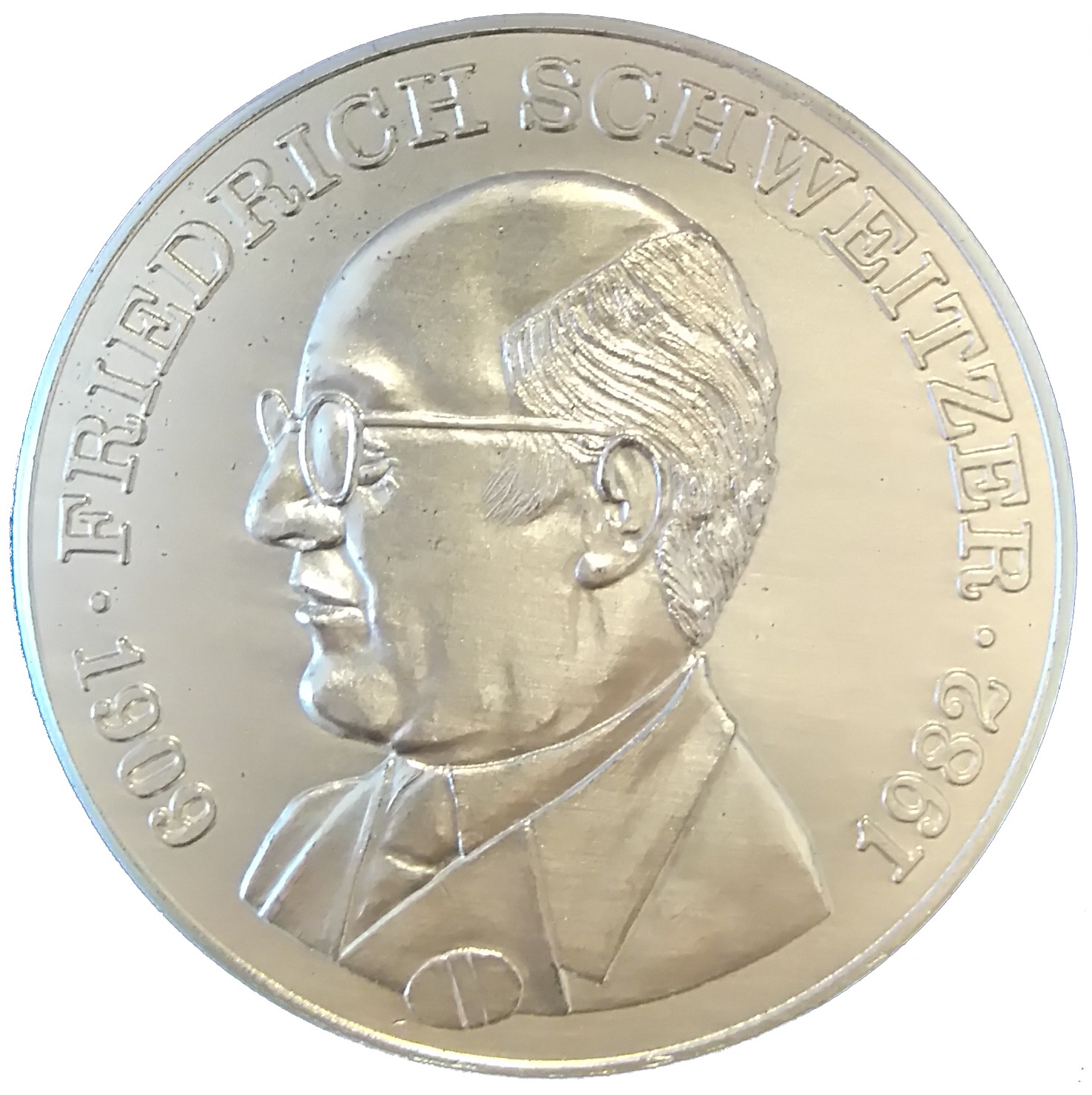 Friedrich Schweitzer Medal
The Austrian Dr. FRIEDRICH SCHWEITZER (died in 1984) was one of the founders of ICC, over years he served as Secretary General, he was ICC President, Austrian National Delegate and ICC Executive Committee member. So he fulfilled all important functions of the association for many years and thereby significantly influenced the work and development of ICC.
In recognition of his achievements and in his memory the ICC Executive Committee decided in 1989 to create an award to honour those ICC representatives who have made important contributions towards achieving the aims of ICC, like Dr. SCHWEITZER did.
Dr. SCHWEITZER was also the first recipient of the CLYDE H. BAILEY Medal in 1970 at the 5th World Cereal and Bread Congress in Dresden.
Prof. Dr. J.A. SHELLENBERGER recalled Dr. SCHWEITZER's professional life and paid tribute to his work at the service of cereals, flour and bread. He reminded the audience that it had been Dr. SCHWEITZER's pioneering idea to found an international association for the standardisation of methods for the testing of cereals and cereal products.
The principal object was to overcome the uncertainties that prevailed in assessing bread cereals and milling products and to foster fruitful cooperation among the farming, milling and flour processing communities.
Dr. SCHWEITZER's idea was in particular supported by Prof. Dr. P.F. PELSHENKE and welcomed by a great number of renowned scientists, and in 1955 the ICC was founded on the occasion of the 3rd International Cereal and Bread Congress in Hamburg.
In this way, Dr. SCHWEITZER became a pioneer of the integration of investigation methods and standardisation in the cereal field and of the collaboration of cereal scientists and technologists on an international plane. It is in no small measure due to his untiring work as Secretary General of ICC that the success of these endeavours has surpassed all expectations. In 1974 ICC approached Dr. SCHWEITZER with the request to accept the honorary life presidency of the Association which he gladly accepted.
The FRIEDRICH SCHWEITZER Medal is normally awarded annually for distinguished service in the furtherance of the aims and ideals of ICC.
See below for recipients of the Friedrich Schweitzer Medal.
Dr. Roland E. Poms, Austria (2014)
Dr. Anthony B. Blakeney, Australia (2013)
Prof. Dr. Friedrich Meuser, Germany (2013)
Dr. Fengcheng Wang, China (2012)
Dr. Joel Abecassis, France (2012)
Dr. Marina Carcea, Italy (2012)
Dr. Meinolf G. Lindhauer, Germany (2009)
Dr. Concha Collar, Spain (2009)
Dr. Martha Cuniberti, Argentina (2008)
Dr. Stanley Cauvain, UK (2004)
Dr. Helmut Glattes, Austria (2003)
Prof. Okkyung Kim Chung, USA (2002)
Prof. Zygmunt Ambroziak, Poland (2001)
Prof. Vyacheslav A. Butkovsky, Russia (2000)
B.Sc. Robert Cracknell, Australia (2000)
Prof. Dr. Ferenc Örsi, Hungary (1998)
Dr. Vassiliki Pattakou, Greece (1996)
Dr. Werner Schäfer, Germany (1995)
Drs. Jan Willem van der Kamp, The Netherlands (1994)
Dr. David A.V. Dendy, UK (1993)
Dr. Pieter S. Steyn, South Africa (1993)
Ing. Harald Perten, Switzerland (posthum, 1992)
Prof. Dr. Brian Spencer, UK (1990)
Prof. DDr. Ing. Radomir Lásztity, Hungary (1990)
Dr. Arie H. Bloksma, The Netherlands (1990)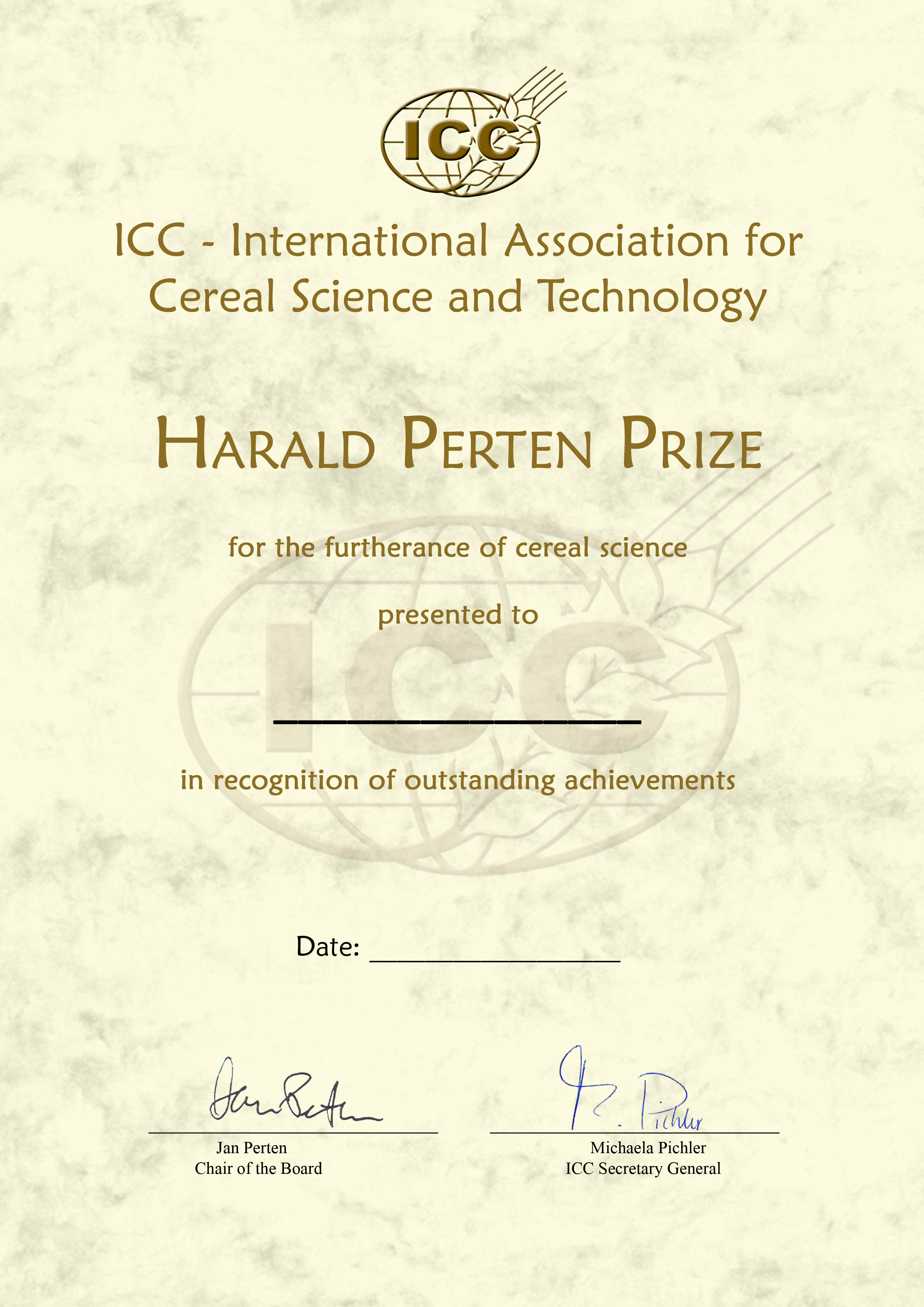 Ing. Harald PERTEN was among the scientists who participated in the meeting which established ICC on the occasion of the 3rd International Bread Congress in 1955.
After the death of Dr. HAGBERG, whose closest collaborator he was, he became chairman of the ICC Working Group on Alpha Amylase and Sprouting, a function he has held to this day. ICC owes to Mr. PERTEN's untiring and unselfish work a number of standard methods including the "Falling Number" method which has earned him world renown.
Mr. PERTEN, who is held in high esteem by the international scientific community, established the HARALD PERTEN FOUNDATION in 1989 as expression of his deepest gratitude to ICC for its support over many years, to promote ICC's activities on cereal sciences worldwide for the benefit of new generations of enthusiasts in the area of cereal science.
The HARALD PERTEN Prize was for the first time awarded in 1990 and is intended to recognize and reward outstanding achievements in science, research, teaching or transmission of knowledge which serve the cereal sciences and technology, primarily recognizing practical applications in the areas of starch, gluten and enzymes.

The Prize will be awarded by the HARALD PERTEN FOUNDATION to natural persons irrespective of their nationality. Members of research or working groups may also be considered, as individuals or jointly, but not commercial enterprises.
The Prize will be presented in form of a plaque and honorarium of up to USD 5000 and may be shared.
It is presented every second year, even years, in connection with ICC Congresses.

See below for recipients of the Harald Perten Award.
Dr. Stefano Renzetti, The Netherlands (2018)
Prof. Hamit Köksel, Turkey (2016)
Prof. Alberto Edel León, Argentina (2015)
Prof. Jan Delcour, Belgium (2015)
Dr. Stephen Delwiche, USA (2013)
Prof. Wang Qiang, China (2012)
Prof. Hui Sun, China (2012)
Dr. Ian Batey, Australia (2010)
Dr. Concha Collar, Spain (2008)
Dr. Cristina Rosell, Spain (2008)
Prof. Kaisa Poutanen, Finland (2007)
Dr. Floyd Dowell, USA (2005)
Dr. Marina Carcea, Italy (2004)
Prof. Dr. András Salgó, Hungary (2002)
Dr. Gerold Häberli, Switzerland (2002)
Dr. Ferenc Bekes, Australia (2000)
Dr. Peter Gras, Australia (2000)
Dr. Phil Williams, Canada (2000)
Dr. Francisco J. Cejudo, Spain (1999)
MS José Antonio Rojas Real, Spain (1999)
Dr. Jim Steele, USA (1998)
Mr. Charles Martin, USA (1998)
Dr. Robert Hamer, The Netherlands (1996)
Dr. Jean-Claude Autran, France (1996)
Dr. Dorian Weipert, Germany (1995)
Prof. Dr. Carl Hoseney, USA (1995)
Prof. Dr. Raimondo Cubadda, Italy (1994)
Dr. Colin Wrigley, Australia (1994)
Prof. Dr. Clarence McDonald, USA (1992)
Dipl.Ing. Gerhard Schöggl, Austria (1992)
Prof. Dr. Bert D'Appolonia, USA (1990)