Fructan: Functional food ingredient hero or food intolerance villain? Exploring physiological effects and suitable analytical methods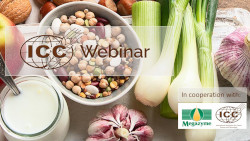 Fructan is the term used to describe oligomeric or polymeric chains containing primarily fructose monomers. Fructan received much attention at the beginning of this century as our knowledge on dietary fiber expanded and the CODEX definition came to encapsulate low-molecular weight fibres including fructan and FOS. These compounds occur naturally in certain foods and a number of food manufacturers have developed fructan based functional food ingredients, promoting their prebiotic potential as dietary fibres. Interestingly however, fructan has recently been implicated as the potential root cause of typical IBS symptoms in individuals that claim to suffer with gluten intolerance. In addition to exploring these contrasting effects, the analytical methodology required to accurately quantify the various types of fructan will be discussed. The analytical challenges and required solutions will be described in some detail.
Prof Jane Muir will introduce a new family of short chain carbohydrates called FODMAPs.  Fructans are the most common FODMAP present in our diet. Research has shown that FODMAPs (including fructans) are involved in triggering gut symptoms associated with a common GI disorder called IBS.  Prof Muir will provide an overview of; the FODMAP concept, evidence supporting the diets efficacy in IBS, how FODMAPs are measured in foods, safe levels and the link between FODMAP and gluten-free foods.
Dr. David Mangan will describe known fructan chemical structures and present a mini-review of the instrument-based analytical methodology available for the analysis of fructan. This will include AOAC method 997.08, 2016.06 and 2016.14 which all involve enzymatic incubation steps followed by HPAEC-PAD detection to afford quantitative fructan content in a variety of matrices
Prof. Barry McCleary developed two of the AOAC approved methods for fructan determination (999.03 and 2018.07) and will discuss these in some detail. Challenges with the accurate measurement of inulin, branched and levan type fructan will be discussed, including challenges in measuring partially hydrolysed fructans with enzymatic procedures

Associate Professor Jane Muir is a Nutrition Scientist and Dietitian with 30 years experience in the area of nutrition research.  She is the head of Translational Nutrition Science, Department of Gastroenterology, Central Clinical School, Monash University in Melbourne, Australia.  Her research has focused on understanding the role of indigestible carbohydrates in the health of the gastrointestinal tract.  A major area of her current research involves investigating the role of poorly absorbed short chain carbohydrates (called FODMAPs) on the genesis of symptoms in patients with functional gut disorders such as irritable bowel syndrome (IBS).  Over the last 15 years- her team has provided a strong evidence base for the use of the Low FODMAP diet to control gastrointestinal symptoms associated with IBS.  

Prof Muir helped to establish the techniques to quantify the various FODMAP carbohydrates in foods.  The team at Monash have assembled the largest FODMAP food composition database, which has been essential for research into studying the physiological effects of these sugars in the gastrointestinal tract.  Prof Muir also leads the team that developed the 'Monash University Low FODMAP diet apps' (for smartphones) and 'Monash Low FODMAP Food Certification program' which have greatly assisted with the translation of this new diet therapy around the world.

David Mangan was awarded his BSc (2006) and PhD (2010) from Trinity College, Dublin, Ireland. He is the author of a number of patents and papers in the fields of carbohydrate chemistry and biocatalysis. He has been employed at Megazyme since 2012 and currently holds the position of Research Director. His research interests are in basic enzymology and its application to the development of analytical methodology. Recently, this has focused on enzyme activity assays based on the preparation of synthetic substrates but also includes the development of enzymatic assays for the measurement of a wide range of analytes relevant to the food, beverage and related industries.





Barry McCleary is the founder, former owner, and now strategic advisor of Megazyme. He received his PhD and DScAgr degrees from the University of Sydney, at which he is an Adjunct Professor. He was Research Scientist – Principal Research Scientist in the New South Wales Department of Agriculture from 1976-1988. He is author of over 200 scientific papers/book chapters/patents. His interests span the use and measurement of enzymes and carbohydrates and how they interact in defining quality aspects of plant products. He has led research resulting in the development of numerous analytical procedures, including AOAC methods for beta-glucan, starch, resistant starch, fructan, lactose, ethanol, dietary fibre and alpha-amylase. McCleary has received several prestigious awards including the "Harvey Wiley Medal" (AOAC International), the Phil Williams Applied Research Medal (AACC International), the Clive Bailey Medal (ICC), the Guthrie Medal (RACI) and the "International Achievement Award" from the University of Sydney, in 2014.
Who should attend this webinar?
This webinar will be of great interest to any F&B industry professionals either in the product development or analytical sphere, or academics, with activities or interest in any aspects relating to fructan, or digestion, dietary fiber and food intolerance in general.
What will you learn about?
By the end of the webinar, participants will gain a clearer understanding of how fructan behaves in the body - both beneficially as a prebiotic and negatively for those people that do not tolerate it well. On the analytical side, the various applicable methods will be described. These include instrumental and enzymatic techniques, a number of which have been validated through AOAC International (999.03, 997.01, 2016.06, 2016.14, 2018.07).
Date:
14 April 2021 | 10:00-11:00 CET
Price:
ICC can offer this event
FREE OF CHARGE
for everybody as this webinar organised
with the valued support of Megazyme