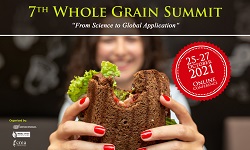 The 7th Whole Grain Summit "From Science to Global Application" will be held as ONLINE conference from 25 to 27 October 2021.  As phrased in the sub-title "From Science to Global Application", this event will focus on the connection between science/research and applicability and therefore intends to seek ideas and ways to translate the available scientific and technological knowledge into application, resulting into an increase in availability of affordable and acceptable whole grain products in a diversity of markets.
In addition to the oral and poster presentation sessions, there will be also interactive sessions and panel discussions to provide a multidisciplinary approach for all global stakeholders.
 
Sessions for this event will include topics on
Nutrition & Health
Technology & Application
Consumers & Communication
Sustainability
All submitted abstracts shall be within the overall scope of the WGS 2021.
The call for abstracts to submit suitable online as well as poster presentation ideas as well as EARLY BIRD Registration are open now.

Companies and organisation who want to showcase their products, applications and/or efforts torward (new) whole-grains products will also find attractive sponsor opportunities on the WGS website - view the options!
 
We hope to meet many colleagues and collaborators during the online WGS2021 and are excited about the upcoming discussion how to increase the global whole grain consumption. 
Find all further details about the event any time at the WGS website!