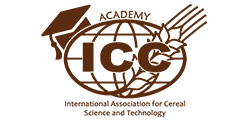 Due to the ongoing situation caused by the Covid-19 pandemic, the announcement of the ICC Awards 2020 originally foreseen in April this year, had to be postponed and will officially be announced at the ICBC2020 Online Conference in March 2021 as follows:
Friedrich Schweitzer Medal, for distinguished service in the furtherance of the aims and ideals of ICC.

Awardees 2020 are:
- Amine Jbeily, Industrial Research Institute, LB
- Hamit Köksel, Istinye University, TR
Fellowship of the ICC Academy, for significant contributions to cereal science and the aims and objectives of the ICC.

Awardees 2020 are:
- Regine Schönlecher, BOKU - University of Natural Resources and Applied Life Sciences, AT
- Fengcheng Wang, Henan University of Technology, CN
We sincerely congratulate all awardees!