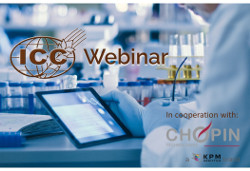 Standard methods are an essential part of a laboratory proper functioning and are essential for anyone wishing to agree on accepting a good or fixing a price based on laboratory analysis. But what does "standard" really mean?
Where do the data in the standards come from? What do they mean in regard of the precision of the method? Most importantly: How to use them to insure a proper communication, both internally and externally?
Lena BOSC-BIERNE, Products and Application Specialists at CHOPIN Technologies, will answer in this 2-stage webinar (19 January and 2 February 2020), within the scope of the ICC Standard No. 121 – Method for using the Chopin Alveograph, all those questions using concrete examples from everyday needs.
The webinar will be held in English and Spanish!
You can find further information and register HERE.