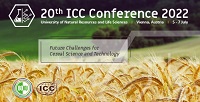 After a long time attending virtual conferences, ICC in cooperation with BOKU (University of Natural Resources and Life Sciences, Vienna) organized the 20th ICC Conference 2022 as hybrid event. The conference took place from 5-7 July 2022 in Vienna, Austria.
The successful conference kicked off with a kind welcome address by the BOKU Rector Prof. Dr. Eva Schulev-Steindl and the Austrian Federal Minister of Agriculture, Regions and Tourism, Norbert Totschnig. Prof. Martin Schönhart from BOKU showed in his keynote speech "Future framework conditions of cereals sector in Europe" in several scenaries how key factors of global change, such as climate change and changing dietary habits, affect the agricultural and food system. This presentation perfectly introduced this year's conference themes:
Crop production and agricultural challenges
Grain Biodiversity and Food Security
Grain Nutrition and Health
Processing and Cereal products
Grain quality, safety and analytical tools
Market Trends and Consumer Demands
More than 150 participants from nearly 40 countries around the globe showed the high relevance of the topics in the cereal sector and related sectors like nutrition, health and sustainability. 61 posters (physically and virtually) and 47 oral presentations contributed to the attractive scientific programme of ICC2022, presented in 10 sessions.
ICC's affiliated journal Journal of Cereal Science kindly sponsored two 'Best Poster Awards' for innovative or exceptional work in cereral science and technology research. Also, the scientific journal 'plants' by MDPI sponsored one award for the best oral paper.
The awards were given to:
Esteban Gutierrez-La-Torre, University of Hohenheim, DE
Poster title: "Influence of the sourdough produced with Weissella confusa on the quality of Peruvian maize bread"
Johannes Nagel-Held, University of Hohenheim, DE
Poster title: "Improvement of quick wheat quality assessment by combining Raman, fluorescence, and near-infrared spectroscopy"
Wisse Hermans, KU Leuven, BE
Lecture title: "Protein distribution analysis of the wheat endosperm reveals potential of bran selection for bread making"
Also, the Harald Perten Prize 2022 has been handed over to Prof. Katharina Scherf, Karlsruhe Institute of Technology, DE.
Congratulations to the winners!