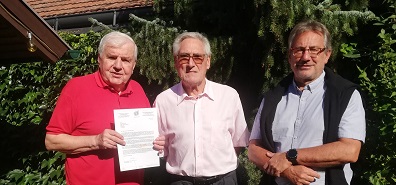 ICC, the International Association for Cereal Science and Technology thanks the Austrian Federal Ministry for Agriculture, Regions and Water Management for 20 years of supportive hosting of the ICC Headquarters and hopes of further good cooperation for the benefits of both sides. This anniversary also coincides with the 20th ICC Conference in Vienna in 2022 in spring, where we were honored to hear an opening speech by the current Minister, Mag. Norbert Totschnig, MSc.
Mag. Wilhelm Molterer, former Minister of Agriculture, had underlined with his decision in 2002 the importance of ICC as global scientific and technological network dedicated to international cooperation, dissemination of knowledge and the improvement in safety and quality of cereal-based foods.
After 30 years in Austria's largest Milling Company "Vonwiller/Schöller", ICC moved in November 2002 to a new renovated building in the centre of Vienna and remains in grateful connection to the successful early decades of the ICC Headquarters at "Vonwiller/Schöller".
Additionally, ICC had to thank Mrs. Dr. Ingrid Tomasitz and Dr. Herbert Etz for guiding the preparation and relocation process and the great support for ICC. Dr. Helmut Glattes, ICC Secretary General in 2002, and Dr. Gerhard Schleining, the current ICC President, recently visited Dr. Herbert Etz to celebrate this anniversary.